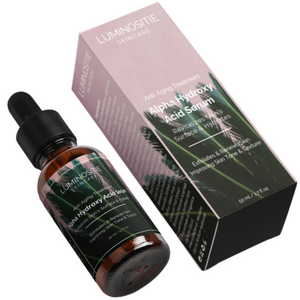 Alpha-Hydroxy Acids (AHA) Serum
Sale price Price $11.84 Regular price Unit price / per
Tax included.
Extensively Studied: Our AHA serum is made from Glycolic Acid, which is widely studied by researchers for its various benefits. Including being very gentle on the skin, do not cause any irritation & help in reducing hyperpigmentation & dark spots.

Prevents Acne: Exfoliating with AHA can help reduce the size of enlarged pores, which are commonly seen in acne-prone skin. Skin cell turnover can even reduce acne scars & excess oils.

Quickly Absorbs: No sticky or tacky residue will be left for its light texture & fully absorption feature. Our AHA serum can make your existing products work better by increasing their absorption into the skin.

100% Cruelty-Free: At Luminositie we believe in a powerful combination of skincare ingredients for a substance that's not only low-cost but completely natural & abundantly available without any animal cruelty!

Trust: We have worked hard with anti-aging & skincare specialised all over to formulate an AHA serum based on all-natural ingredients that works. This means you can rest assured your skin is getting everything it needs, & nothing else.
At Luminositie we know how important it is to get the most out of your skincare products, that's why our AHA serum can make your existing products work better by increasing their absorption into the skin, if you have too many dead skins cells your daily moisturizer just sits on top without hydrating your new cells underneath. Alpha-Hydroxy Acids can break through this layer of dead skin cells, enabling your moisturizer to absorb more effectively.
If you're looking for significant exfoliation, then our Alpha-Hydroxy Acid (AHA) Serum may be the right product for you to consider.
AHAs are primarily used to exfoliate the skin, this helps to remove dead skin cells but also make way for new skin cell generation. Removing dead skin cells will aid in giving you a brighter and more radiant complexion for a more youthful look.
Collagen production helps to keep your skin plump and smooth. As you age these fibers break down and produce less and less which results in sagging skin and wrinkles. AHAs help promotes collagen production by destroying old collagen fibers to make way for new ones, aiding to reduce the appearance of fine lines and wrinkles.
AHAs have anti-inflammatory properties that can help promote blood flow to the skin. This can help correct pale, dull complexions. Long-term use of AHAs may reduce skin discoloration by encouraging the old, discolored skin cells to turn over.