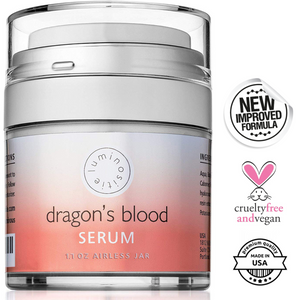 Dragons Blood Serum
Sale price Price $25.99 Regular price Unit price / per
Tax included.
So, What is Dragon's Blood?

Dragon's Blood for skin, also called Sangre de Drago is the name for the blood-red resin taken sustainably from the Croton Lechleri tree which is believed to be rich in protective antioxidants, and anti-inflammatory compounds by forming a unique protective 'second skin' barrier. This protective shield helps regenerate the skin and prevents further damage from external aggressions, reduces irritation and redness, whilst locking in moisture.

Dragons blood cream also contains a group of compounds called proanthocyanidins which helps protect your skin against free radical damage caused by the environment, which can disturb the skin's protective layer and breakdown collagen and encourage premature aging.

Beyond that, our rejuvenation dragon blood facial cream has nourishing, moisturizing, and protecting qualities when applied to the skin. Thought to help skin conditions of all kinds with great success, particularly for sensitive or acne-prone skin due to its soothing and inflammatory nature.
What is Dragon's Blood used for?

Green dragon blood face cream studies continue to prove remarkable results as a treatment for anti-aging, acne, discolored skin and can even help build proteins in the skin while locking in moisture to reduce environmental damage.

Anti-Aging - Our Natural dragon blood serum boosts collagen production, skin regeneration and protecting your skin from sun damage while fighting off free radicals and environmental pollution's, making it one of the most effective and versatile anti-aging ingredients available.

Acne Scars - Buy dragon's blood benefits unique properties for repairing and protecting the skin work by stimulating the growth of your skin's fibroblasts, a fundamental part of your skin's structure. This allows it to help remove acne gently and reduce the likelihood of scarring.

Pores and Redness - Dragons blood serum helps to draws out impurities and toxins from deep underneath the skin, reducing the size of pores which minimizes the chance of blackheads and blemishes forming in the future.
Skin Rejuvenation - Our skin tightening gel actively stimulates cell regeneration within your skin providing you with a fuller, firmer, plumper and healthier face. made from the dragon blood extract tree sap giving you a natural facial plumping serum.
Botox Cosmetic Alternative - Dragon blood skin care is known as nature's answer to botox. It is excellent at tightening and lifting your skin leaving your face feeling youthful and refreshed. Dragon blood serum reviews say it's like a facelift in a bottle.
Our new Dragon blood tea 1.7 oz serum includes ingredients such as:

Aloe Vera has been used for thousands of years as its perhaps one of the most widely used herbal treatments for topical skin conditions. Aloe is known to be a natural moisturizer for its extremely hydrating properties and absorbs fast into the skin, even for oily and acne-prone skin.

Vitamin B2 also known as Riboflavin, performs an extremely important role in the maintenance of healthy, glowing skin by playing an essential role in maintaining collagen levels for youthful skin structure and firmness.

Green Tea is popular for its anti-inflammatory properties, thanks to its high content of polyphenols called catechins. The catechins in green tea help to reduce irritation, redness, and swelling.

Vitamin B12 additionally known as Cobalamin helps to support the growth of healthy skin cells and aids to repair damaged skin. B12 helps to regulate the production of pigment in the skin, helping to prevent dark spots and pigmentation.

Vitamin E, similar to dragon blood benefits, fights off free radicals on the skin, which are a result of daily environmental stressors like unprotected sun exposure and air pollution. In fighting off free radicals, vitamin E helps protect the skin from damage and supports new skin cell growth and also acts as intense hydration for soft and nourished skin.

Pomegranate Oil penetrates deeply into the skin, being very effective for treating dry skin. It contains punicic acid, an omega 5 fatty acid that hydrates and prevents moisture loss.

Jojoba Oil is a humectant ingredient. Meaning its able to seal your skin with a protective barrier to keep it from losing moisture, deeply penetrates to soothe and soften skin while providing an excellent moisturizing effect and adding a healthy glow.

Papaya Enzyme is naturally high in Vitamin A, B, and C which gives your skin elasticity and increases your collagen levels. Papaya is also naturally rich in Alpha-Hydroxyl Acids (AHAs) all of which are essential for glowing, healthy skin.

Made in the USA - Our anti-wrinkle dragons blood moisturizer is made right here in the US ensuring quality is maintained at the highest standard. It contains no added petroleum-based ingredients or animal by-products and is 100 percent phthalate-free. Dragons blood fix serum is suitable for every skin type.

Moneyback Guarantee - if for whatever reason you are not fully satisfied with your dragon's blood serum then we do offer a 30-day happiness guarantee. simply drop us an email and we will give you a full refund. 

To read more about the
history and benefits of Dragon's Blood Extract
, check out this in-depth
article
on the ingredient and why we knew we had to formulate a low-cost, all-natural dragon's blood serum.