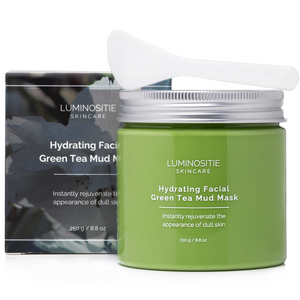 Hydrating Facial Green Tea Mud Mask
Sale price Price $17.99 Regular price Unit price / per
Tax included.
Antioxidant Boost - Our hydrating facial mask helps fight off free radicals, softens, repairs and reverses the damage with natural healing. Its anti-aging properties give you a healthy glow and reduce the appearance of fine lines and wrinkles.
Reduce Pores - Super soothing mask shrinks the appearance of pores and balances oil levels to help reduce breakouts. Pores are tightened to prevent future congestion. It leaves skin feeling soft, refreshed and perfectly hydrated.
Help Treat Acne - Green Tea Mud Mask has antibacterial agents that help fight acne-causing bacteria. It even helps regulate hormonal imbalances in the body, one of the key causes of acne. The anti-inflammatory property of green tea mud mask helps reduce the redness and inflammation brought about by acne.
Cruelty-Free - At Luminositie we believe in a powerful combination of skincare ingredients for a substance that's not only low-cost but completely natural and abundantly available without any animal cruelty!
Applicator stick provided - Applying masks with a face mask brush is more hygienic & drastically cuts down on product waste, as you can get every last bit of it onto your face. Moreover, it leaves your hands and fingernails clean, saving you from the extra cleanup.
Green tea extract is naturally enriched with several vitamins and appears to help prevent skin conditions like loss of skin elasticity, acne, inflammation and premature aging caused by exposure to UV rays.
Green tea is popular for its anti-inflammatory properties, thanks to its high content of polyphenols called catechins. The catechins in green tea help to reduce irritation, redness, and swelling, an ideal remedy for puffy eyes and treating dark circles.
Vitamin B-2 which is found in green tea has the ability to maintain and improve the collagen level which further helps in the elasticity of the skin and rejuvenates dying skin cells making skin appear more youthful as well supple.
Vitamin E helps protect the skin from everyday damage and supports new skin cell growth and is known for its ability to nourish and hydrate the skin which is perfect for making dull skin look healthier.
When used topically, the tannins in green tea can make a great difference in the appearance of acne and blackheads by shrinking your pores and reduce your sebum (natural skin oil) production.
Mud Masks work by drawing impurities and toxins from deep underneath the skin to the skin's surface and gently exfoliating dead skin cells leaves the skin smooth, radiant, and glowing.

Our hydrating facial mask not only reduces skin blemishes, redness and blackheads, but it also effectively fights the effects of aging by smoothing fine lines and wrinkles. This green tea mud mask is loaded with deeply nourishing, hydrating and healing ingredients
We also know that not everybody's skin is the same and will react differently, which is that's why our expertly crafted formula is suitable for all skin types so everyone can add it to their skincare routine for clearer, healthier skin
Hydrates dry skin

Smooths wrinkles & fine lines

Calms redness & irritation

Suitable for all skin types

Applicator stick provided
Including more powerful ingredients such as:
Hyaluronic Acid is a naturally-occurring substance in the skin known for its stunning capacity to attract and hold onto 1000x its weight in moisture. It works overtime by replenishing skin to enhance a healthy, supple look and feel.
French Green Clay is key to restoring essential minerals to the skin by eliminating oil, bacteria, and impurities from the skin leaving your skin feeling cleansed, clarified, and balanced.
Vitamin B3 Reduces water loss and retain the skin's moisture content. When it comes to aging skin, niacinamide (Vitamin B3) improves the surface structure, helping smooth out skin's texture and reduce the look of wrinkles.
Vitamin C is a key anti-aging ingredient that helps to gently brighten and smooth skin. Vitamin C helps protect your skin against free radical damage caused by the environment, which can breakdown collagen and encourage premature aging.
Vitamin E is an antioxidant, can help to repair damage from sun exposure and collagen loss by encouraging healthy cell turnover and regeneration.
Aloe provides a protective layer to the skin which helps retain moisture. Aloe is also rich in antioxidants and minerals which can help speed healing, act as an anti-inflammatory, increases the body's production of collagen and improves skin elasticity.
Jojoba oil is a humectant ingredient. Meaning its able to seal your skin with a protective barrier to keep it from losing moisture, deeply penetrates to soothe and soften skin while providing an excellent moisturizing effect and adding a healthy glow.