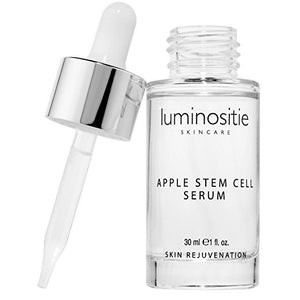 Swiss Apple Stem Cell Face Serum
Sale price Price $28.45 Regular price Unit price / per
Tax included.
About the product
APPLE STEM CELL SERUM BENEFITS - Apple stem cells are arguably the most major breakthrough in repairing aged and damaged skin ever, utilising newly discovered plant stem cell therapy to

replenish your skin cells' capacity to rebuild

and literally

bring your skin back to a younger state

BEVERLY HILLS SWEARS BY SWISS APPLE STEM CELLS -  

Gwyneth Paltrow, Michelle Obama and several other celebrities

 use apple stem cell products for their unmatched skincare benefits

SPECIAL FORMULATION - Our US beauty and skincare experts have combined apple stem cells with powerful natural ingredients including Pueraria Mirifica, an estrogen-imitating miracle root that naturally increases your collagen production and encourages naturally beautiful and clear skin.

IMAGE BOOSTING RESULTS -

 

Another powerful ingredient, PhytoCell Tec Malus Domestica not only protects against signs of

 

aging,

 

but replenishes the cells involved in growing and regenerating skin and

 

replaces your aged cells with new ones

, meaning your capacity to repair your skin naturally improves along with your confidence!
Description:
Reverse aging, boost plumpness, and return to your prime!
Stem cells are naturally present in the human body and serve to create new cells of other types, allowing our bodies to self-renew and repair themselves.
Over time, these stem cells begin to age themselves and lose effectiveness which is why our skin cells begin to repair more slowly, leading to signs of ageing and wrinkles.
Our Swiss Apple Stem Cell Face Serum uses plant stem cells to return your body's natural repair processes to their prime, leading to a long-term reversal of the effects of aging and boosting your skins ability to keep itself healthy, full and youthful.
The power of apple stem cell serums was first discovered when Swiss researchers found that a specific species of apple (Uttliber Spatlauber) was staying fresh and ripe for months and months after being picked, outlasting any other fruit.
They soon learned that the stem cells could have a similar effect on human aging and could be used to create the best anti aging creams on the market.
Why not try it now and see just how much better it is than your previous face serum?
We have also gone in-depth and written an article on the history of apple stem cells in skincare, including full scientific citations, so feel free to read more here!