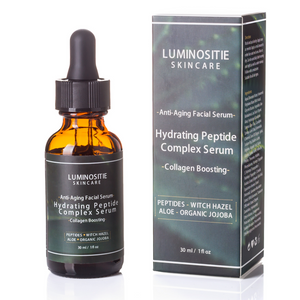 Hydrating Peptide Complex Serum
Sale price Price $12.99 Regular price Unit price / per
Tax included.
INCREASES COLLAGEN PRODUCTION: Peptides stimulate collagen production while encouraging skin renewal. Over time, you will notice that fine lines begin to disappear, which can contribute to your skin's radiant and youthful glow.

EXTRAORDINARY TEXTURE: We have designed this Peptide Complex Serum to be lightweight so it absorbs easily into your skin, which means quicker results. You can also apply your makeup or moisturiser once serum is dried.

SKIN REJUVENATION: Our serum renews & triggers the regeneration of skin that has been damaged by age, acne, UV radiation & environmental factors. truly repairing your skin.

100% VEGAN & CRUELTY-FREE: At Luminositie we believe in a powerful combination of skincare ingredients for a substance that's not only low-cost but completely natural and abundantly available without any animal cruelty!
So, what are peptides?
Peptides are strings of amino acids, which are the building blocks that makeup proteins in our body. Proteins are the fundamental building blocks of skin. One important protein in our skin is collagen. Collagen gives our skin its thickness and suppleness. When the collagen breaks down in the skin from age and environmental factors, the skin doesn't remain intact and the result is loss of firmness, the appearance of wrinkles, texture changes, and skin that doesn't bounce back as it once did. Peptides applied topically to the skin can send a signal to collagen to prompt the formation of new collagen, restoring a more youthful appearance that you once had. 


Achieving healthy & youthful skin is made easier
Our expertly crafted formula absorbs quickly into the skin to replenish the skin's collagen and lock in moisture which is critical to reducing the appearance of aging, improving elasticity and thickness of the skin for long-lasting results.